Jenewein Farms - Welcome!
Still flicking the bugs off this web site, but gander around to find what's been updated. Thanks for visiting Jenewein Farms online.
Today's mighty oak is just yesterday's nut, that held it's ground. ~ David Icke
Jenefarm News
No new photos or shares. Since our weird "good" weather, budding leaves and flowers have been springing up early. So far no frost threats have caused us any harm. All the tree looks good as of this update (May 2012).

Also more pecan trees this year are planned, as well as replacement of the one lost over the winter. We are giving serious consideration to planting more hazelnut bushes too, this year.
Photos
Soon more photos of our trees and the second
round of hazelnuts this year.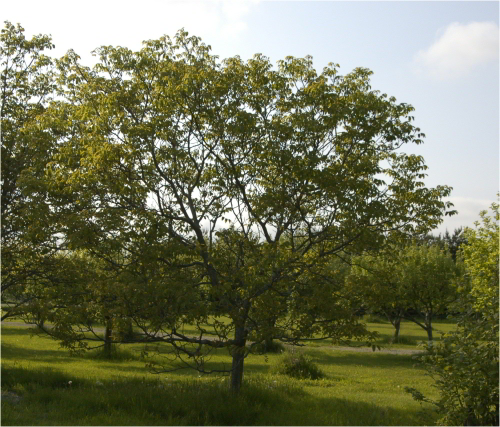 A beautiful walnut tree in eastern Michigan
Links of Interest
American Agri Women:
http://www.americanagriwomen.org/
Farmology:
http://www.farmology.com/index.html
Michigan Agri Women:
http://www.countrylovin.com/MAWomen/
Michigan Family Farms:
http://www.michiganfamilyfarms.com
Rural Womyn Zone:
http://www.ruralwomyn.net/
Society of Ontario Nut Growers (h): http://www.songonline.ca/
Women's Agricultural Community:
http://www.safs.msu.edu/womenag/